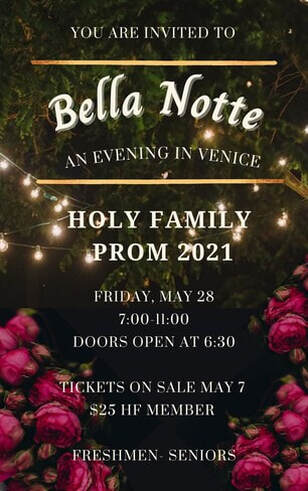 2021 Holy Family Prom Promise Our Catholic Christian values recognize the dignity and self-worth of the individual. This event is viewed as an opportunity for homeschooled teens to socialize in a fun, supervised and safe setting. Behavior and attire of attendees should reflect these guiding principles.
Responsibility:
Prom goers must be currently in High School (Freshman –Senior in the 2020-2021 school year). Due to restrictions to COVID last year, we are opening prom this year to Holy Family 2020 graduates.
The event is limited to homeschooled high schoolers with Holy Family Catholic Home Educators, AMHEA, Our Lady of Guadalupe Catholic Homeschool Group, St. Edmund Campion, and ONE guest.
Guests must be at least 14 (and currently in high school) and under 21.
Homeschooled students are responsible for the conduct of their guest.
Once admitted to the prom, attendees will not be permitted to leave and re-enter the facility unless accompanied by a parent chaperone.
If leaving before prom ends at 11:00pm, a parent or guardian will be notified.
A parent or guardian will be notified for late arrivals (after 7:30pm).
Parents:
Designated chaperones will be parents of prom attendees. Sign up - https://www.signupgenius.com/go/10c0b4fa8ae2fa4f58-chaperone
Alcohol may not be consumed at the prom.
Parents who wish to stay (for driving reasons, etc.) please send an email to the prom coordinator at forsyth.kathryn@yahoo.com so that we may have a count for and recruit any additional help.
Conduct:
This is an alcohol, tobacco and drug-free event. Any violators will be asked to leave prom and a parent or guardian will be notified.
Dance styles must comply with standards of modesty and safety. Suggestive or inappropriate dancing will not be permitted and will be addressed by chaperones.
Refrain from foul or inappropriate language
Any public display of affection should be modest and tasteful.
Attire:
Every year, the attire for the prom is a delicate point.
We expect the dress to convey the dignity and self-worth of the individual
. For that reason we will hold to the following dress standards. Those not meeting the standards will, unfortunately, be denied access to the prom by the Parent chaperones.
Gentlemen:
Suit coat, dress pants, collared, tucked-in dress shirt, tie, dress shoes
Tuxes also permitted
Ladies:
Floor or tea-length gowns are encouraged
Modest, strapless and spaghetti strapped gowns may be worn if well-fitted and secure
No revealing or low-cut necklines
Dress may be no lower than mid-back
No exposed midriffs, transparent fabrics, or cutouts in gowns where skin is revealed
Hemlines or slits must be below the knee.
If in doubt, err on the side of modesty, bring a wrap or shrug, wear shorts underneath.
Location:
Sacred Heart Church Auditorium, 2733 Massachusetts Ave, Cincinnati, OH 45225 - see map below.

Dispensation:
Those who attend the prom may be dispended from the obligation to do penance on Friday, May 28. This is in accordance with Canon 1245. I would, however, encourage all to perform some other penance that day, which is the general custom today.
Fr. Jon-Paul, Provost of the Cincinnati Oratory and Pastor of Sacred Heart (venue)
Clicking to payment form indicates that parents & attendees agree to follow the Prom Promise as specified above.Ticket Purchase
Single Holy Family Ticket $25
HF Plus Guest Ticket $50
Non-HF Ticket $35
Non-HF Plus Guest Ticket $70
Yes, Parents, Attendees, and Guests agree to follow the Holy Family Prom Promise - Take me to the registration/payment form (click here).
Payment form troubles - email
president@hfche.org
Pre-Prom Dance Review:
To anyone who will be attending the prom and wants a refresher class on their favorite social dance steps - this is for you!
Please join us on May 19 for a Waltz/Swing class and May 26 for a Two-Step class, along with some basic principles of how to lead/follow when you don't know how to dance to a song. You'll have the confidence to dance to any song of any style and will never again have to ask, "How are you supposed to dance to this?"
Dress code: men wear slacks and a nice shirt; ladies wear a dress or skirt. Ladies, you can wear flats but you may find that a low heel helps you. Everyone will do better in shoes that will slide on a smooth floor.
Cost is $30 for two classes or $15 for one (we understand people are busy and may only be able to make it to one, but we encourage you to attend both if you can). Please make checks payable to Emily Landreaux or bring cash in an envelope with your name on it. Thank you and we hope to see you there!
God bless you. St. Genesius of Rome, pray for us!
Holy Family Members - RSVP on our Calendar (click here) for each date (May 19, 26).Non-HF Members - contact Mrs. Emily Landreaux, emlandreaux@yahoo.com, 513-254-5636
---