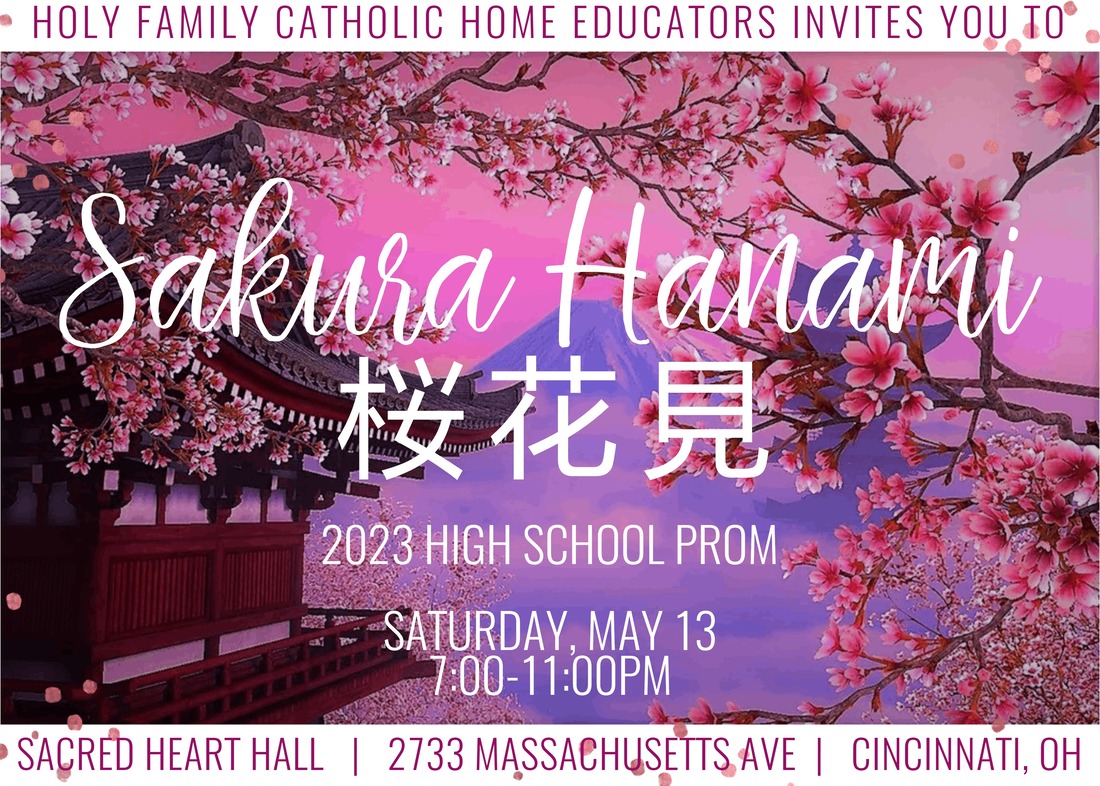 2023 Holy Family Prom Promise
Our Catholic Christian values recognize the dignity and self-worth of the individual. This event is viewed as an opportunity for homeschooled teens to socialize in a fun, supervised and safe setting. Behavior and attire of attendees should reflect these guiding principles.
Responsibility:
Prom goers must be in High School (Freshman –Senior) for the 2022-2023 school year.
The event is limited to homeschooled high schoolers with Holy Family Catholic Home Educators, AMHEA, Our Lady of Guadalupe Catholic Homeschool Group, St. Edmund Campion, and ONE guest.
Guests must be between 14-20 yrs old.

Students are responsible for the conduct of their guest.
Once admitted to the Prom, attendees will not be permitted to leave and re-enter the facility unless accompanied by a parent chaperone.
If leaving before Prom ends (11:00pm), a parent or guardian will be notified.
If arriving late to Prom (after 7:30pm), a parent or guardian will be notified.
Parents:
Designated chaperones will be parents of Prom attendees or members of the homeschool groups participating.
Alcohol may not be consumed at the Prom.
Conduct:
This is an alcohol, tobacco and drug-free event. Violators will be asked to leave and a parent/guardian will be notified.
Dance styles must be modest and safe. Suggestive or inappropriate dancing is not permitted.
Refrain from foul or inappropriate language
Any public display of affection should be modest and tasteful.
Attire:
We expect the dress to convey the dignity and self-worth of the individual.
For this reason, we will hold to the dress standards listed below. Those not meeting the standards will, unfortunately, be denied access to the Prom.
Gentlemen:
Suit coat, dress pants, collared, tucked-in dress shirt, tie, dress shoes
Tuxes also permitted
Ladies:
Dress must be of modest length, floor or tea-length gowns are encouraged
Modest, strapless and spaghetti strapped gowns may be worn if well-fitted and secure
No revealing or low-cut necklines
Dress may be no lower than mid-back
No exposed midriffs, transparent fabrics, or cutouts in gowns where skin is revealed
Hemlines or slits must be below the knee.
If in doubt, err on the side of modesty, bring a wrap or shrug, wear shorts underneath or bring a back-up
Location:
Sacred Heart Church Auditorium, 2733 Massachusetts Ave, Cincinnati, OH 45225 - see map below.
Tickets*
Single Holy Family Ticket $25
Double Holy Family Ticket (Holy Family + Guest) $50
Single Non-Holy Family Ticket $35
Double Non-Holy Family Ticket (Non-Holy Family + Guest) $70
*By buying a ticket or volunteering, you agree to follow the Holy Family Prom Promise
CLICK HERE TO → BUY TICKETS
Any issues, click to email →
president@hfche.org
---